All this speculation about El Nino has Clark/Sullivan employees recalling the Flood of '97 and emergency response tactics. In that El Nino event, our President BJ Sullivan was cited by Sparks Police Department for crossing a barricade to get to our Sparks-based headquarters with damage control equipment.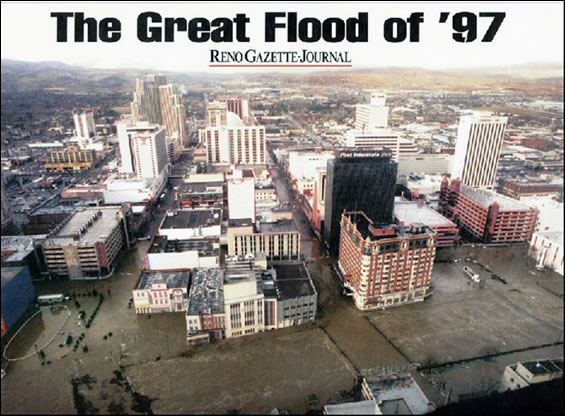 Going to court, paying a $600 fine plus attorney fees, and writing apologies were all worth an act of disobedience, says BJ.
"We averted at least $50,000 in damages with our emergency clean-up, and we avoided lost work days. It was absurd City of Sparks was trying to keep me out. At the barricade, they told me I could walk into my property, but I wasn't allowed to drive there. It was ridiculous, 2 blocks to the office from the barricade, the roads were dry, and I needed to transport equipment for the emergency response."
When BJ arrived at the Sparks headquarters with equipment, a dozen employees were masked up and ready to suction sewer water off the floor of our office building. B.J. waited for the officer. When the officer arrived B.J. asked him if he was interested in seeing the damage to the office and what the Clark/Sullivan employees were doing in the cleanup of the building. The officer did take a tour and commented "I thought you were going to be a big jerk but you are nice guy. I do have orders and because of that I do have to give you a citation." (The officer was only doing his job.)
Shaking his head, BJ recalls going to court and having the Deputy District Attorney demand he be charged with a felony and spend 30 days doing public work service cleaning streets etc.. BJ bit his tongue while his attorney urged the judge to consider a business owner's perspective and noted that BJ's actions were all safe and responsible.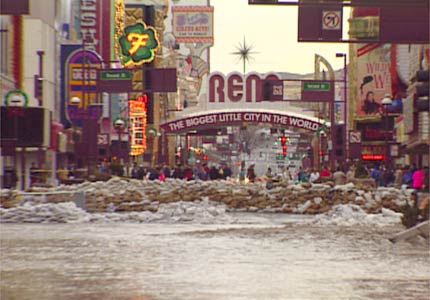 As a past president and veteran member of Nevada Associated General Contractors, BJ is proud of its post-flood efforts. Working with Washoe County Sheriff's department, general contractors were trained and deputized to respond to emergencies.
"General contractors are the very people you need to call during an emergency. We have experience mobilizing the design, equipment and expertise needed to be effective in a natural disaster."
"If we ever have a natural disaster of the magnitude of the Flood of '97, I predict the public safety people will work with general contractors as partners. I also would hope that the public officials use common sense and understand that a business owner has a right to protect his property."
Here are BJs lessons learned from the Flood of '97:
Keep sand bags on hand and put them in toilets, urinals and sinks to prevent sewage back flow
Sandbag strategic perimeter areas, specifically door and window walls.
Get everything valuable unplugged and higher than flood range
Keep your data in a cloud to avoid loss