We need the most cost effective performing arts construction solutions you can give us for our budget, said leaders at Lincoln High School in Stockton, CA.
So our team of leaders from the school, Clark/Sullivan and Architectural Nexus followed a detailed process with stake holders – including staff, students and parents – on the types of performances and possible uses for the performing arts program of their dreams.
Given budgeting realities, the team's knew that design and material solutions would need to serve the school for 25 years, so choices had to be flexible and increase usability of the space into the future.
The team considered conceptual pricing for three options before formal programming:
Remove and replace all structure in the performing arts footprint
Modular construction to increase overall space
And the selected option – preserve classrooms but remove and replace black box theater
Next the team considered function, aesthetics and budget, before concluding the third option allowed them to get the most for their money.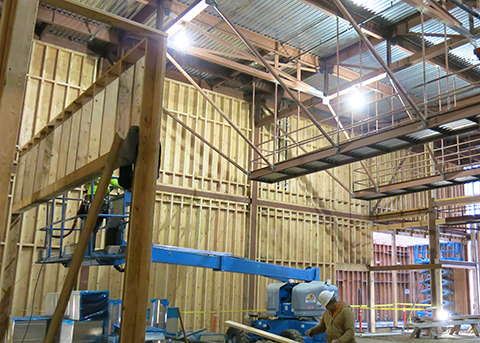 Function
The team greatly increased performing arts functionality without increasing the footprint with a new theater:
Sloping ceiling, stage, orchestra pit, riggings, curtains, set design, costumes area, and theater seating
Diverse performance function, including plays, orchestra, band, choir, and meeting space for 300+
One classroom was converted to a black box theater
Aesthetics
The selected design package resulted in
Exterior metal panels in bold colors complimenting the original block and bringing new energy to a high profile area near the school's main entry and parking lot
Interior finishes featuring sophisticated design and materials
Lighting and sound that enhance the audience experience
Budget
The team had numerous pricing variables and the complexity of connecting the 36-foot tall theater into the original building's one-story complex roofing structure so they
Weighed cost impacts for a various structural approaches
Priced alternative materials with cost and schedule impacts
Determined which long-lead items needed to be secured during pre-construction in order to meet the schedule
"This was a very successful collaboration. We used a highly integrated process. Being able to talk about aspirations and how we can make it happen within the realities of the budget was critical to the success of the design. We continue to meet and work as a team. I know we are all going to be proud of this project." – Joe Yee, Architectural Nexus, 916.443.5911
The $8.4 M project is slated to complete June 2016.