I'm sure if you're anything like the rest of the world, you've wondered if the grass is really greener on the other side. Whether it has to do with your career, relationships or even preferences, sometimes it takes some investigating to answer the question. One of our most recently-hired Project Engineers, Ashley Kenneally, took that question into her own hands and decided to figure it out for herself. Formerly employed by a local architecture firm, Ashley knew that she needed to cross-over from architecture to construction to dive deeper into the industry to fully develop her skills.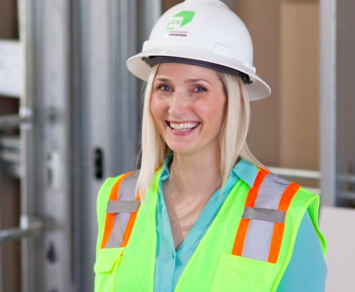 We sat down with Ashley to learn a bit about how she got here and how she sees her career developing in the future.
How did you get into the construction industry? 
I got into the construction industry through architecture. I studied architecture at Arizona State University in Tempe, where I earned my Bachelor of Science in Design and Master of Architecture degrees. I've worked for several architects as a Project Designer in a wide range of architectural firm types from design-oriented to heavily service-oriented. I started getting onto the construction side of the industry recently when I worked for a design/build factory built housing manufacturer here in Sacramento. I started there as a design technician producing shop drawings, and ended up as the Quality Assurance Manager – and loved it.
What excites you about construction? 
I absolutely love everything about design and construction, and I absolutely love seeing projects get built, and being a part of the entire process from start to finish. From initial programming to design, construction documents, construction administration, project engineering, and management, I just keep learning and expanding my passion for this industry. I'm intrigued by details, specifications, coordination, etc. It's all very interesting to me. Working in teams with different people is extremely fun too. I very much enjoy collaborating with clients, subs, designers, etc. – it's incredibly gratifying and rewarding to be a part of getting projects built.
Where do you see yourself in the construction industry 10 years from now? What do you hope to be doing?
I plan to hopefully be running the in-house Clark/Sullivan design studio as the lead architect for Clark/Sullivan for all of our design/build projects.
What advice would you give someone about a career in the construction industry?
There is a place for everyone in this industry – everyone has value and experience they can bring to a project. You just have to find your niche and run with it. Don't be afraid to learn new things and explore. It's okay to not know everything and to not have all the answers, but to know where to go and who to communicate with to find the answers.
To learn more about Ashley or to connect with her, visit our team page.