Clark/Sullivan had the good fortune to hire veteran superintendent Tim Cosetti. He has led large, complex tenant improvements like data centers and police stations. He took time out from his new project, Folsom High School Auxiliary Gymnasium, to share some insights.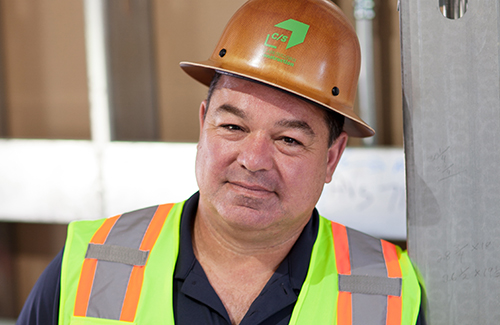 What do you enjoy most about being a Superintendent?
Being outside and not stuck in an office. Camaraderie of the guys, building the team environment and still being able to have fun and enjoy what we are doing.
How long have you been in the industry? How did you get your start?
I been in the trades for 34 years. My dad was a general contractor and my cousin was a framing contractor.
What do you love most about construction?
We get to build things and create. At the end of the day you have something to show for and take pride in.
What advice would you give someone entering the construction industry?
Well that's an interesting question and I have thought about this a lot. Here is my answer: GAIN PERSPECTIVE If you are going to be working as a Project Engineer or Project Manager or any of the office type position, you should spend at least a year or two in the field to really understand what the guys in the field are doing so that when you are writing RFI or asking questions you have a better understanding of what the guys are asking because you have been out there and seen the different conditions.It also goes the other way. I just spent the last two years as a business owner and through that I have gained a whole NEW RESPECT for the office and everything that they do. I use to be the one of the guys, like most field personnel, that thought the office had it easy and why can't they get the paper work done. I'd think, "What's so hard about it? It's not like what we have to do in the field." I had no idea all of the work that it takes to get a job set-up, the insurance process, the tracking that goes on and the close-out process. So with that being said and ME having gained a new perspective over time, I believe that all Superintendents should see what happens from the office side. After doing that once the guys in the field will totally understand what it takes to run a job from the other side.
What's your favorite/most memorable project(s) you've ever worked on?
Well, there are two: My very first project, which was with C/S Senior Superintendent Larry Cabodi, was actually the most difficult project I had ever worked on. The Bay Area project had more problems and issues than you could imagine. With that being said, it taught me how to problem solve and how to approach problems and issues that come up. It taught me to not get caught up in the job site drama and sit back deal with the issue itself and not the drama. Keep calm and then everyone around you will stay calm. The second most memorable project was when I was building some corporate offices in Stockton. The immaculate finishes and superior craftsmanship that went into these office were something I will ever see again. At the time, we were doing these types of offices at a standard rate of $75 to $95 a square foot. For this build, it came in at $215 a square foot, so you can only imagine the things that were going in! Working on something at that level of detail and luxury really sticks with you.